Why Are Philly Cheesesteaks Famous?
June 28, 2019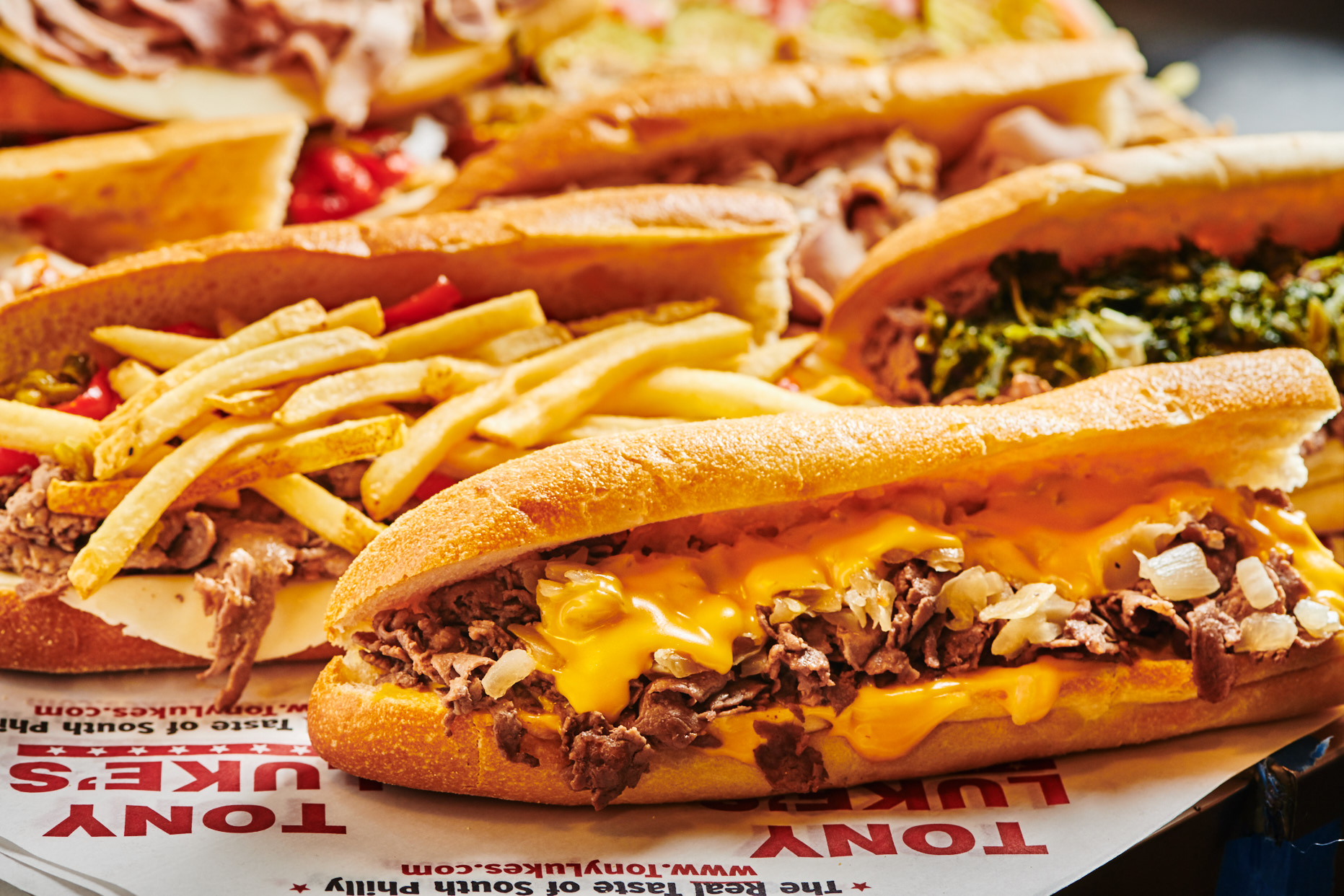 If you have ever lived in Philadelphia, that cheesesteaks are as Philly as you can get. When people all over the world come to visit the city of Brotherly Love, a stop for a cheesesteak is always on the itinerary.
Why are Philly Cheesesteaks famous?
It could simply be their mouthwatering deliciousness. Cheesesteaks are simply thinly sliced rib eye beef sautéed and then tucked into a fresh roll with melted cheese. Many cheesesteak aficionados also like to top their cheesesteaks with fried onions, peppers, mushroom and ketchup.
Origin of the Cheesesteak
Or maybe because of the so Philly origin of the cheesesteak. According to VisitPhilly.com, the cheesesteak was invented by Pat Oliveri who owned a hot dog cart in south Philadelphia in the 1930s. One day he was in the mood for steak for his own lunch and put it on an Italian roll. A cab driver who came to his cart for a hot dog at that moment thought it looked delicious and asked Olivieri to make him one too. Soon cabbies from all over the city were stopping at his cart looking for a steak sandwich. In the 1940s, cheese was added to make the iconic cheesesteak.
And eventually, Olivieri opened up Pat's King of Steaks in South Philly.
The Battle of Cheesesteaks
Or maybe it is the friendly rivalry between all the cheesesteak joints in the city. Geno's Steaks popped up in the 1960's just around the corner from Pat's and cheesesteak lovers have been arguing ever since about which shop has the best cheesesteak ever since.
Tony Luke's didn't join the battle of Philly cheesesteaks until mid-1992, but since then it has proven to be a favorite in Philadelphia and around the world.
The Only Way to Order a Cheesesteak
Then again, maybe it is the special language you need to order a Philadelphia cheesesteak. At Geno's, you have to indicate your cheese preference first, 'whiz or no whiz". If you want onions, you order 'whiz with', and 'whiz without' for no onions. At Pat's you need to indicate your onion preference first and then your cheese. Politicians like John Kerry and Scott Walker have even be mocked by their cheesesteak order choices.
Ingrained in Philly Culture
Whatever the reason, it cannot be denied that Philly cheesesteaks are ingrained in the city's culture, especially in south Philadelphia.
There is even a book by Carolyn Wyman called The Great Philly Cheesesteak Book, where she visited more than 50 cheesesteak shops in the city.
She wrote, "A Philly cheesesteak is not just bread, meat and cheese coming together. It's a Philadelphia cultural icon – a subject of love and loyalty, politics and pride, history and hubris."
Philadelphia cheesesteaks have been the subject of many articles over the years as well as writers offer their take on the Philly cheesesteak experience. Articles like this one from USA Today and another one from Philadelphia Magazine offers advice on where to get the best cheesesteaks.
The Tony Luke's Experience
While Tony Luke's wasn't one of the first cheesesteak shops to pop up in Philadelphia, it has become one of its most famous, and not only in the city of its origin. We at Tony Luke's has spread our love of cheesesteaks all over the country and the world as we have opened up new locations and have attracted customers from around the world.
We have appeared in Gourmet Magazine, GQ Magazine, New York Times and Philadelphia Magazine. Our sandwich shop has even appeared on episodes of Throwdown! With Bobby Flay, Dinner: Impossible, Man v. Food and Food Wars.
Our juicy meat, special spices and Philly-styled bread gives you a taste of South Philly in every bite, and now we are offering frozen cheesesteaks that can be sent in the mail to whomever you want. They are a great choice for cheesesteaks near me. It has never been easier to order Philly cheesesteaks online and they make the best mail order food gifts.
While you might be wondering how frozen cheesesteaks can be as good as a fresh one, we have developed a new technology that allows us to prepare the cheesesteaks fresh before freezing.
Now you can bake them at home, but still get the same taste as it you were sitting inside their South Philly shop. Once you or your family member or friend that you sent them to, receives their package of frozen cheesesteaks all you have to do is bake them in the oven for 20 minutes.
We only use 100% Rib Eye for the steaks and only buy beef that has no fillers, antibiotics or steroids. The bread is also genuine Philly bread, hand spun and baked in Philadelphia. No rolls are used.
You can order Tony Luke's Philly Cheesesteaks in 4 Packs, 8 Packs, and 12 Packs.