How to Make a Philly Cheesesteak at Home for National Cheesesteak Day
February 27, 2019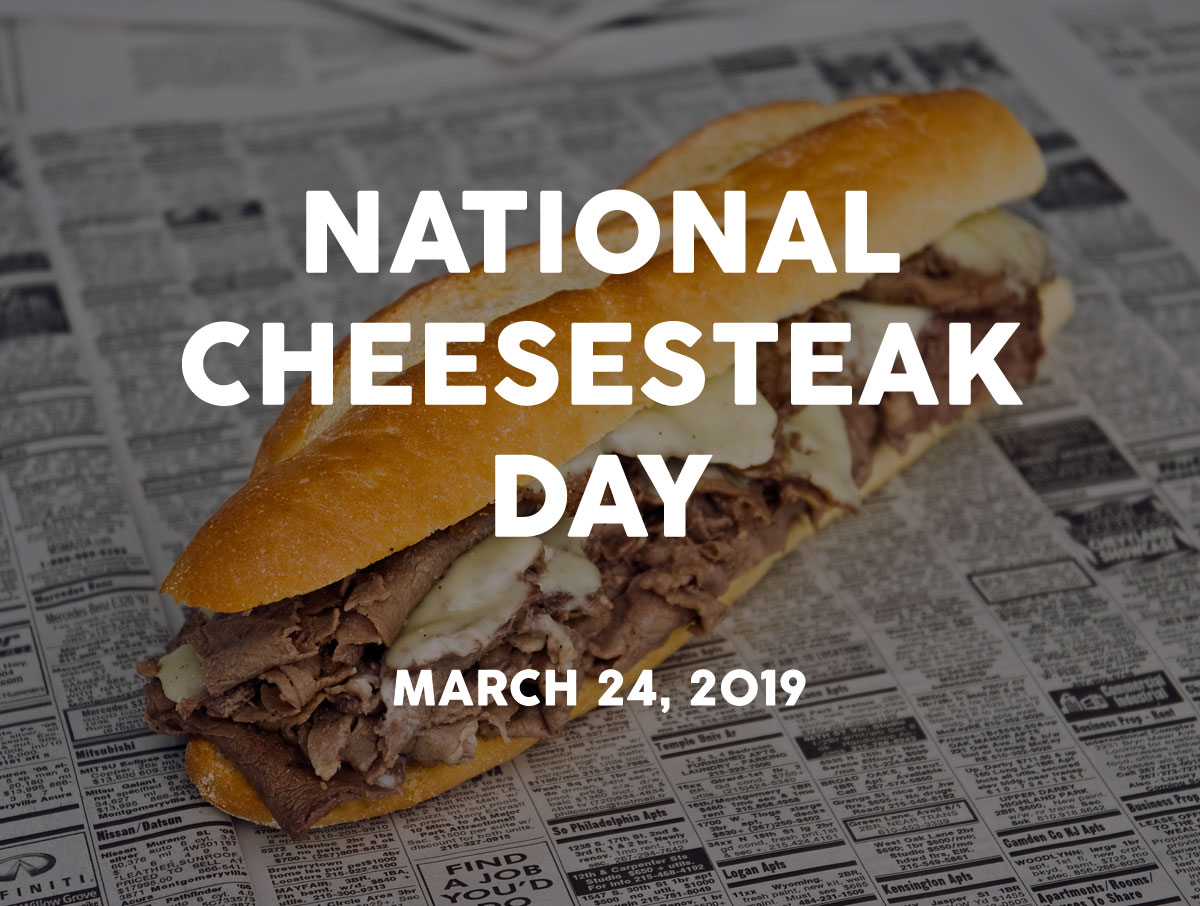 This year's National Cheesesteak Day is Sunday, March 24th. As you scramble to think how you are going to celebrate this delicious holiday, don't stress. We have got you covered.
Did you know, you can celebrate by simply enjoying an authentic Philly Cheesesteak in the comfort of your home? Easy peasy.
Here is a fun Philly Cheesesteak recipe to try for National Cheesesteak Day.
Gather all your ingredients
The first thing you need to know about how to make cheesesteaks at home is what ingredients you need. There only four ingredients to a cheesesteak, but you need to be careful because if you don't use the right ones, it could affect the authenticity of the taste.
First you need the bread, but it can't be just any bread or roll. Philadelphia bread has a special taste. You want it to be fresh and slightly dry with a little crunch on the outside and a soft middle.
Second, you need onions to sweeten the cheesesteak. The most popular type of onion used at Philly cheesesteak shops is stewed onions.
Of course the most important ingredient is the steak itself and for best taste it needs to be rib-eye. Less expensive cuts of meat can do in a pinch but you will be able to taste the difference. You will need about a quarter pound of meat per sandwich.
Many fights have been broken up over what type of cheese to put on a cheesesteak. In some places it is all about the Cheese Whiz while others prefer provolone. American cheese though is the most popular choice. Since you are cooking at home, make it however you prefer. Just make sure whatever type of cheese you choose is not going to overwhelm the steak and the bread.
Cooking Your Cheesesteak
Heat a large skillet or griddle over a high heat until it is really hot. Add some oil and then turn down the heat to medium high. Then thinly slice and quickly sauté the onions. You want the onions to be brown but not totally caramelized. It is a good idea to sprinkle them with salt too.
Once the onions are ready just push them off to the side of the skillet or put them in a bowl if you don't have the space on the skillet. Next comes the steak. You will need to cut the rib-eye steak into thin slices. For best results they should be cardboard thin. It is a good idea to get your local butcher to do it for you.
Make sure you have added a little bit more oil to the pan after removing the onions and make sure you have the bread, onion and cheese all ready to go. Now it is time to sear the steak. Be sure to salt the steak slices as they cook. Let one side completely brown before flipping it over. Shoot for less than 2 minutes per side. If you prefer, you can chop up the meat into smaller pieces while still on the grill.
For cheese, the rule of thumb is to use 3 slices per every quarter pound meat. Simply put the slices on top of the steak as it finishes cooking so the cheese can melt. If you are using cheese whiz then heat it up separately and then add to the sandwich once it is assembled.
Finally, it is assembly time. Cut the roll in half almost all the way through then scoop up the meat and cheese and pour into the roll. Make sure you get some of the grease from the pan in there too. Then just add your onions. Your cheesesteak is ready to enjoy!
Nothing Says South Philly Cheesesteak like Tony Luke's
Another option for National Cheesesteak Day is to enjoy a Tony Luke's cheesesteak at home. But how do I do that if I don't live near a Tony Luke's, you might be asking yourself. Well now you can enjoy Tony Luke's cheesesteaks from the comfort of your home, wherever that may be, with Tony Luke's new online delivery system .
Freshly made genuine Tony Luke's philly cheesesteaks delivered through the mail to your home? You may be asking yourself, how is that possible?
The cheesesteaks are frozen to allow for packaged delivery, but Tony Luke's uses cutting edge technology to prepare the cheesesteaks fresh before freezing so that when you bake them at home the taste is just like it would be if you were sitting inside their South Philly shop.
All you have to do is bake in the oven for 20 minutes and you will get to bite into a warm and crispy sandwich stuffed full with tender, juicy beef and melted cheese. It won't taste like your typical frozen cheesesteak. Is your mouth watering yet?
The Genuine Tony Luke's Experience
When you buy Tony Luke's cheesesteaks you know you are guaranteed quality as well as taste. They only use 100% Rib Eye for the steaks and take every precaution to make sure the beef they buy has no fillers, antibiotics or steroid.
The bread is also genuine Philly bread, hand spun and baked in Philadelphia. No rolls are used.
Tony Luke's spent over a year in research and development finding the best possible way to recreate the authentic Tony Luke's experience right in your kitchen. Prep is easy and only fresh ingredients are used.
Tony Luke's guarantees safe shipping, using high quality custom fitting Styrofoam boxes and special ice to ensure beef stays frozen and safe.
You can order Tony Luke's Philly Cheesesteaks in 4 Packs ($99), 8 Packs ($169) and 12 Packs ($209).
Why Tony Luke's Is Quintessential Philly
Philly icon and international brand, Tony Luke's has come a long way since Tony Luke and his two sons opened the doors of its first small sandwich shop in South Philadelphia on February 3rd, 1992.
Tony Luke's now has 22 stores open in Bahrain and the Mid-Atlantic region, and has been featured in GQ Magazine, Gourmet Magazine, The New York Times, and is a member of Philadelphia Magazine's Hall of Fame.
The shop has also appeared on episodes of Throwdown! With Bobby Flay, Man v. Food and Food Wars. Bon Appetit even named Tony Luke's the #1 Cheesesteak in Philly.
The one thing that hasn't changed though is Tony Luke's South Philly neighborhood mentality. They still spread Philly Brotherly Love with every cheesesteak they serve. If you are a Philly transplant, you will appreciate the little taste of home in every bite.
Well, now that you know how to make cheesesteaks at home, go ahead and put your Tony Luke's order in here. Tony Luke's Philly Cheesesteaks are available online in 4 Packs ($49.95), 8 Packs ($89.95) and 12 Packs ($129.95).
Find out more about cheesesteaks near me here by search our locations page.