6 Ways to Celebrate National Cheesesteak Day
February 28, 2019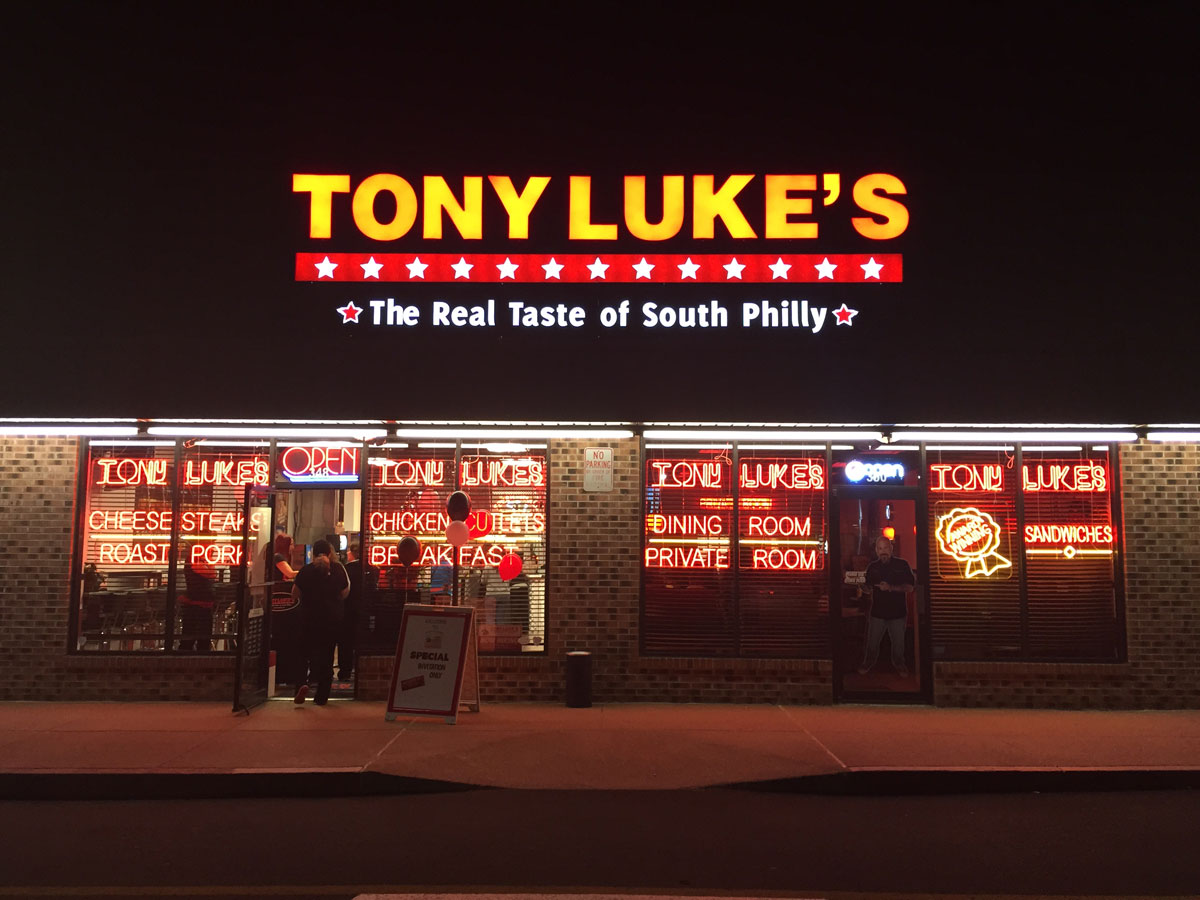 If you are a cheesesteak lover like us, then one of your favorite holidays is quickly coming up. March 24th is National Cheesesteak Day. Do you know how you are celebrating yet?
Check out these 6 ways to celebrate National Cheesesteak Day.
1. Have a Cheeseteak Party at Home
Gather all the fellow cheesesteak lovers among your family and friends and invite them over to your house for a National Cheesesteak Day Party. Now that you can order Tony Luke's cheesesteaks and have them shipped to your home, no matter where you live in the country, it is easy to enjoy the unique taste of Philly Cheesesteaks at home.
And there is nothing wrong with having a party for one either, if you want to enjoy the deliciousness of a Tony Luke's cheesesteak all by yourself. Go on, you deserve it.
2. Celebrate with Coworkers
Brighten up the work week by celebrating National Cheesesteak Day the following day too, by bringing some Tony Luke's cheesesteaks into the office for a group lunch. It will make the typical Monday doldrums so much more bearable for everyone.
3. Send to Your Kid at College
Do you have a cheesesteak lover away at college? You can still celebrate the holiday together by sending them a special delivery of Tony Luke's cheesesteaks. They will appreciate the special treat and you will both feel closer to each other.
4. Visit the closest Tony Luke's
If you want the complete South Philly atmosphere that any Tony Luke's location offers you, then take yourself down there on National Cheesesteak Day. You will definitely feel like you are getting the true South Philly experience when you step into any of their shops.
5. Spend the Day in Philadelphia
Whether you are a Philly native or a Philly transplant or just someone who loves all things Philly, why not spend the whole day in Philadelphia, visiting all the iconic Philly hotspots. Just make sure a Tony Luke's cheesesteak is a part of your day.
6. Send a Philly-themed Care Package
Show a loved one or a friend that you care this National Cheesesteak Day by sending them a Philly-themed care package that will include, of course, some Tony Luke's frozen cheesesteaks, but which can also include other cool Philly-themed gifts like the following:
Philly Love Notes. At Paper on Pine located on 115 S. 13th in Philly, you can pick up a variety of Philly-themed items include a Rocky-themed Christmas card or a LOVE notebook. They also sell a canvas tote with the LOVE logo on it.
Philadelphia Art All Philly fans love to decorate their homes with different Philadelphia paraphernalia. One great gift idea is Philadelphia art and posters. Photos of Kelly Drive or the Art Museum or even in the iconic LOVE statue are fun additions to any home. These particular pieces are handmade typographic interpretations of the city. You can even choose your own colors for the archival inks used to make your piece.
Philadelphia Flyers Gameday Ceramic Salt & Pepper Shakers Any love Philadelphia Flyers fan will love to display this Philadelphia Flyers Gameday Ceramic Salt & Pepper Shaker set in their kitchen. It is important to keep positive vibes to support your favorite team, right? There are also plenty of other Flyers gear to choose from including hats, t-shirts and sweatshirts.
Drawn Jawn coloring book Philly lovers of all ages will love this coloring book by artist Kate Otte. Drawn Jawn celebrates both the good and their weird about Philly. You can find this unique coloring book on Amazon.
Mummer's Umbrella Do you have someone on your gift list who never misses the Philadelphia Mummer parade every New Years? Think how much they will appreciate this colorful Mummer's Umbrella as a gift. You can also purchase dolls dressed in full authentic Mummer regalia. All these unique gifts can be found at the Mummers Museum at 1100 S. 2nd Street or visit their website: http://mummersmuseum.com.
Finding the Hidden City If your loved one is a geek for obscure Philadelphia facts, then he or she will love this coffee table book, Finding the Hidden City. Authors Nathaniel Popkin and Peter Woodall and photographer Joseph E.B. Elliott. For more information, visit https://hiddencityphila.org/.
Nobody Says Cheesesteaks like Tony Luke's
Tony Luke's has gain wide popularity over the years as one of the top cheesesteak shops in South Philly. Their juicy meat, special spices and Philly-styled bread gives you a taste of South Philly in every bite.
Tony Luke's is now offering frozen cheesesteaks that can be sent in the mail to whomever you want. They are a great choice for cheesesteaks near me. It has never been easier to order Philly cheesesteaks online.
Now, you might be thinking to yourself, how good can frozen cheesteaks really be? Well, Tony Luke's has spent a lot of research and development time to perfect its new technology that allows them to prepare the cheesesteaks fresh before freezing.
This cutting edge technology allows you to bake them at home, but still get the same taste as it you were sitting inside their South Philly shop. Once your family member or friend receives their package of frozen cheesesteaks all they have to do is bake them in the oven for 20 minutes in order to experience the same great sandwich they would get inside Tony Luke's South Philly shop.
Tony Luke's only uses 100% Rib Eye for the steaks and they only buy beef that has no fillers, antibiotics or steroids. The bread is also genuine Philly bread, hand spun and baked in Philadelphia. No rolls are used.
Tony Luke's spent over a year in research and development finding the best possible way to recreate the authentic Tony Luke's experience right in your kitchen. Prep is easy and only fresh ingredients are used.
Tony Luke's guarantees safe shipping, using high quality custom fitting Styrofoam boxes and special ice to ensure beef stays frozen and safe.
You can now order Tony Luke's Philly Cheesesteaks online in 4 Packs ($49.95), 8 Packs ($89.95) and 12 Packs ($129.95).