Tony Luke's Guide to the Perfect Football Themed Wedding
September 24, 2020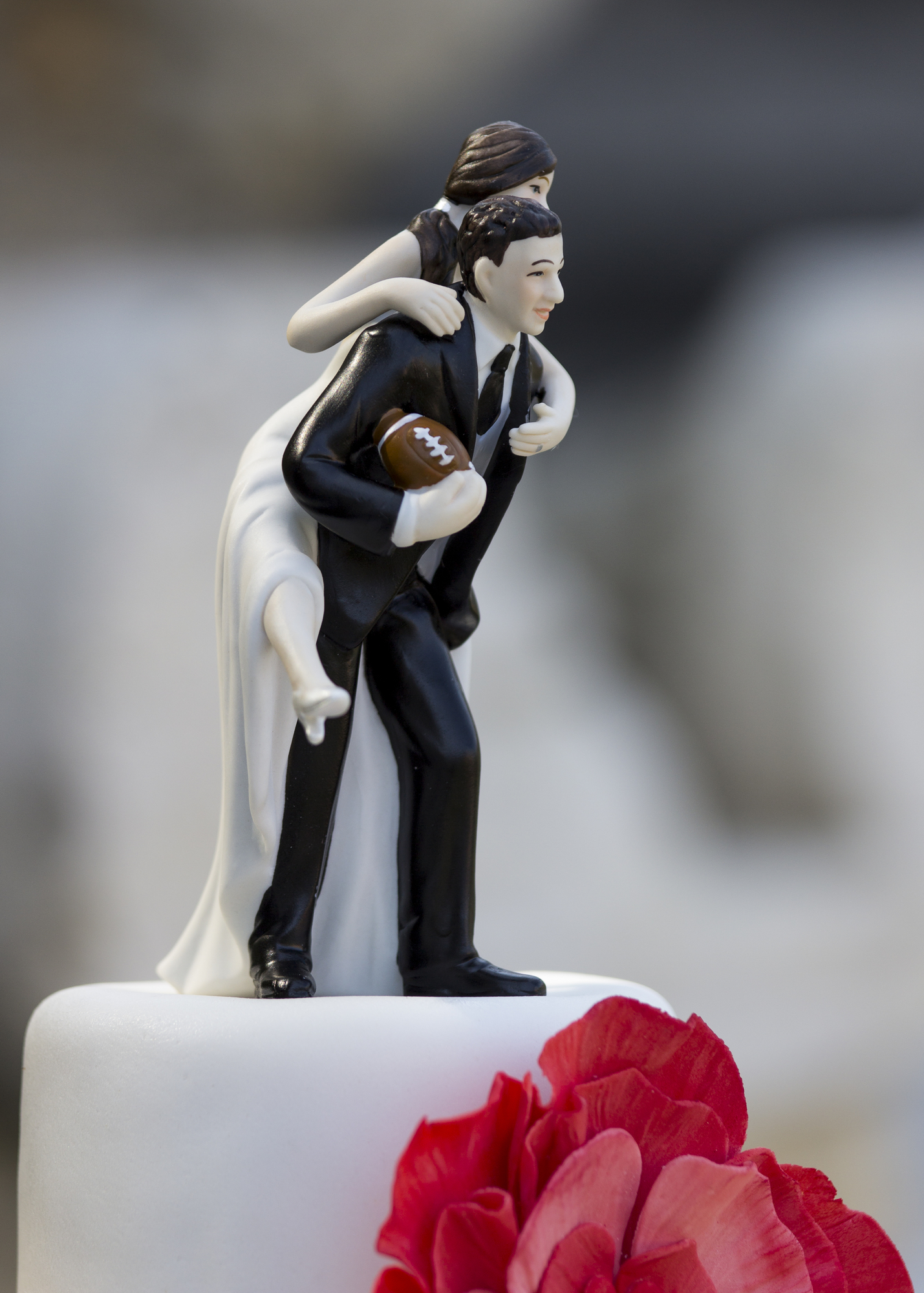 If you are a big Eagles fan like me, then you have football in your blood. Nothing beats sitting in those stadium seats on a crisp fall Sunday evening rooting on your favorite team. So if you are getting married, doesn't it make sense to have a football-themed wedding. And who better to help you plan it than me.
Here is my guide to the perfect football themed wedding. Whether you go for a fully-themed football wedding or just want certain subtle game day touches to your big day, I can help you plan a tasteful and fun wedding.
Wedding Cake Figurines
Your wedding cake topper is one wedding element you can have a lot of fun with. Instead of the traditional topper, choose one like this where the bride is tackling her groom. Here is an example: Weddingstar Playful Football Wedding Couple Figurine
Game Day Invitations/Save the Date Cards
Your guests will get a big kick out of invitations and/or save the date cards that look like a ticket to the game. Have them printed in the colors of your favorite team or the colors of your wedding, depending on whether you are going full throttle with all the football stuff. Here is an example: football wedding invitations
Football Boutonnieres and Bouquets
Imagine having a little football tucked into your boutonniere and bouquets for you and your soon-to-be spouse and bridal party? It is subtle and elegant and shows your passion for football and love. See some examples here: Sports Roses
Specialty Wedding Cakes
Go for a touchdown with a football-themed wedding cake like this football stadium wedding cake or one shaped like the Vince Lombardy Trophy. All your friends will be raving about your wedding, especially the delicious cake. Here is an example:  Sports Themed Wedding Cakes
The Program
Wedding programs are often just left in the pews or on the chairs after the wedding ceremony as an afterthought. That won't happen with your football-themed wedding programs though. All your friends will love to be a part of the starting lineup of your favorite football team.
Football Field Locations
For real diehard fans, all this won't be enough though. You will need to rent out the most perfect location for your wedding too. Some professional football stadiums will let you rent out their space. If not, renting out a local university or community football field is also an option.
Wedding Guest Book
Wouldn't you love a wedding guest book shaped like a regulation-sized NFL Football jersey or one shaped like the football field or a football itself? Your guests will love signing it and it will be a special keepsake from your special day.
Wedding Aisle Runner
What about an astro turf aisle runner that even has the yard markers on it? What better way to celebrate the touchdown of your life. Just no tackling, okay?
Football PhotoBooth
While you are, of course, are going to want to have some traditional wedding photos to remember your special day, that doesn't mean you can't incorporate your love of football here too. Why not set up a photo booth with football themed props like helmets, footballs and penalty flags for people to take pictures with? Encourage all you guests to stop by the photo booth at some point during your reception and then afterwards you can collect all the photos in a special album separate from your official wedding album.
Introduction and Fight Song
Another great way to incorporate your favorite game into your wedding reception is to have your wedding party be introduced like they are the starting lineup of your favorite team and have your team's fight song playing in the background. Then have the bride and groom come out wearing jerseys over their fancy clothes.
Tailgating Appetizers
And why not make all the appetizers tailgate favorites like nachos, fries, little burgers, hot dogs and sausages?
Tony Luke's Original Philly Cheesesteaks
Of course nothing says football, especially Philly football, more than our original Philly cheesesteaks. When you are cheering on your team, you know there is nothing else quite like a juicy cheesesteak and a cold beer to wash it down with. Why not recreate that feeling at your reception?
We make it really easy to do it with our frozen cheesesteak delivery. Our new technology allows us to prepare the cheesesteaks fresh before freezing so whoever is catering your reception will just have to bake them in the oven for you and your guests to experience the same great sandwich you'd get at the stadium or in our South Philly shop.
Philadelphia cheesesteaks are also one of the best food gifts to send by mail. If you are ever looking for a unique food gift for a foodie in your life, they will love getting our frozen cheesesteaks in the mail.
For more information about how we can help you plan the perfect football themed wedding, click here: https://tonylukes.com/shipping/