8 Undeniable Reasons We Have the Best Philly Cheesesteak
July 20, 2019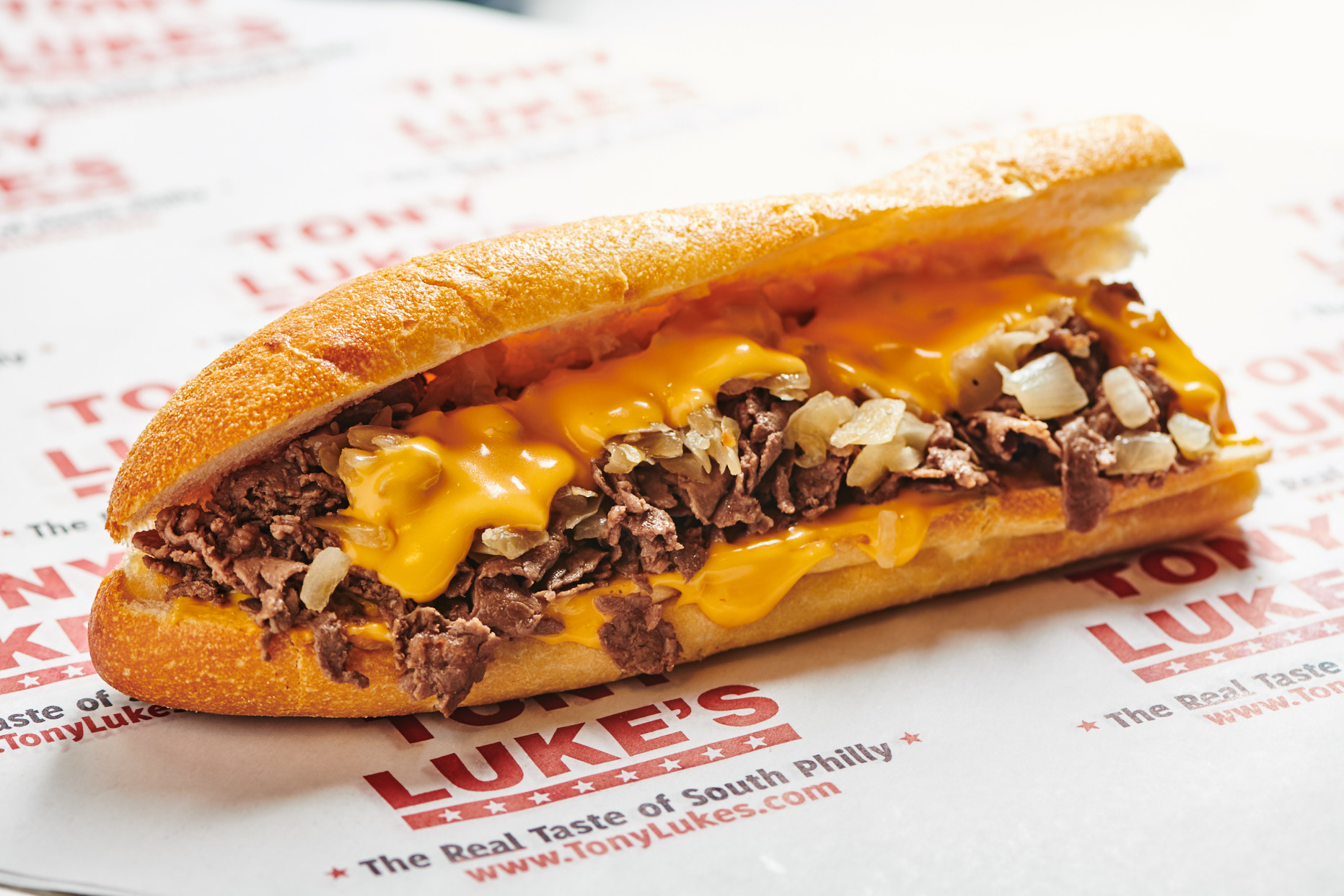 The cheesesteak competition in Philadelphia is very fierce. Everyone has very specific ideas about what makes the best Philly cheesesteak and will argue loudly for hours about who is right. While we came to the cheesesteak game a little later than some of the other popular cheesesteak joints, in 1992 to be precise, we have fine-tuned our recipe so you can get the ultimate cheesesteak experience.
Here are 8 undeniable reasons we have the best Philly cheesesteak:
1. Real Taste of South Philly at Every Location
South Philly has always been the mecca for the cheesesteak and at Tony Luke's we always promise you a real taste of South Philly not only at our original location on Oregon Avenue, but at all our other locations as well. No matter which Tony Luke's you visit, you are guaranteed an authentic Philly cheesesteak.
2. It is All About the Meat
We only use thin-cut 100% USDA rib-eye steak that is hormone and steroid free so you know you are getting quality meat. We also cut the steak into ribbons so it stays juicy and full of flavor while cooking.
3. It is All About the Bread Too
The bread is just as much an integral part of the Philly cheesesteak as the meat. At Tony Luke's, we only serve our Philly cheesesteaks on baked in-house bread that is crunchy on the outside, but soft on the inside.
4. Every Bite Is Delicious
Have you ever eaten a cheesesteak where the first couple of bites were good, but by the time you get to the end of the sandwich it is just not as good? Well with our cheesesteaks you never have to worry about that. Every bite is as delicious as the first one.
5. Just the Right Amount of Grease
A big part of the draw to Philly cheesesteaks is the grease factor, but you don't want the grease to make the sandwich soggy or take away all the flavors so it is a balancing act. At Tony Luke's, we make sure to add just the right amount of grease for the best tasting Philly cheesesteak.
6. Internationally Known & Loved
We are more than just a Philly institution. With over 20 stores and an internationally known brand, you know our cheesesteaks are well-loved. We have appeared in Gourmet Magazine and GQ Magazine and on shows like Throwdown! With Bobby Flay, Dinner: Impossible, Man v. Food and Food Wars.

7. Just as Good at Home
And the best thing about our cheesesteaks is now you can also enjoy them at home. With our new technology, we can freeze our cheesesteaks fresh and ship them to you at home. Then simple heat them up in the oven and voile it will be just like eating it at one our shops.
8. Makes the Perfect Gift
Another great thing about being able to order online now is that you can also have them shipped to friends and family as the perfect gift. All your Philly cheesesteak lovers will be so appreciative of your thoughtfulness. You can also buy gift cards if you prefer to give them chance to go to one of our many store locations instead. They also make great corporate gift ideas.
9. No Hidden Gimmicks
Finally, the best thing about our cheesesteaks is that there are no hidden gimmicks or ingredients to our food. We have always been open about what all goes into making our popular Philly cheesesteaks, wanting to share the love.
Here is what you need to make 4 Tony Luke's Cheesesteaks
Ingredients
• 1lb rib eye steak, frozen, cut very thin
• 3 cups onions, diced and sautéed
• 2 cups Cheese Whiz, heated
• 9 ¼ ounces hoagie rolls
Recipe
1. Make sure to ask the butcher to cut the rib eye really thin for you. It is a lot harder when you have to do it yourself.
2. Tony Luke Jr. prefers to freshly bake his rolls so instead of just using hoagie rolls, you might want to make rolls yourself or even make rolls out of fresh baked French bread.
3. Fry 1.4 to 1.3 pound of the meat on a griddle. Make sure you move it around as you cook. It should stay moist throughout the cooking process and have a gray tinge to it.
4. Heat the Cheese Whiz and keep it warm.
5. Saute a handful on onions in oil or butter on the grill
6. Open a roll and grill it until it is a light brown.
7. Assemble the sandwiches in this order: roll, slather cheese on one side, top with sautéed onion and place the meat on the other side of the sandwich.
8. Serve immediately.
Whether you follow our recipe and make them at home, order online or stop at one of our stores, there is no doubt we make the best Philly cheesesteak. Find out more about cheesesteak near me. You can order our delicious cheesesteaks online here.