Fun Ways to Celebrate Summer In Philly With Style
August 2, 2019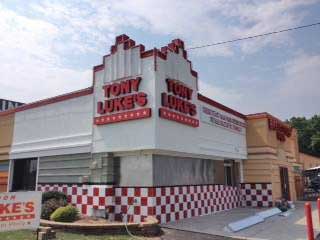 As summer starts to wind down, you are probably looking around for some last minute fun activities to plan before everyone goes back to school and work. We can help with that. Here are fun ways to celebrate summer in Philly with style.
Eat at Tony Luke's
If you want a true taste of Philly then you will not want to miss out on one of our delicious cheesesteaks. Come visit us at our South Philly restaurant or one of our other locations for a real South Philly culinary experience. You can't get any better cheesesteaks in Philly than others. That's why we are considered the best Philly cheesesteak.
Take Day Trips to Museums
Want to start re-stimulating your kids' brains before they start school? Philadelphia has a lot of fun museums with hands-on learning opportunities to visit. Between the Franklin Institute, The Academy of Natural Sciences and the Philadelphia Institute all located along the Benjamin Parkway, there are hours of fun to be had.
Go Tubing on the Delaware River
Are you and your family more the adventuresome types? Then you will love take a tubing trip down the Delaware River. It is a relaxing and fun day to spend in the sun and your kids will love navigating through the rapids.
Go Wild at the Zoo
If you and your kids are animal lovers, then make sure the Philadelphia Zoo is on your to-do list this summer. The oldest zoo in the U.S., the Philadelphia Zoo is home to lots of wonderful animals like lions, and tigers and bears oh my! Also don't forget the special exhibit, Creatures of Habitat: A Gazillion-Piece Animal Adventure, which is running until September 30.
Take a Trip into the Past
Philly is a historical mecca with the cobble stone streets in Olde City, Independence Hall and the Liberty Bell. And let's not forget Betsy Ross's House. So much to experience from the city's past. You can definitely spend a couple of days just exploring the city's historical side.
Go Cheer on the Philadelphia Phillies
Philadelphia always has baseball fever this time of year. Tickets are reasonable enough that you can take the whole family out for a fun day at the ballpark. Batter up!
Street Festivals Galore!
There are always some sort of street festival or fair going on in the city during the summer. Some are cultural while others are a celebration of a neighborhood. In all cases, you can expect great food and music.
The Crayola Factory
What kid doesn't love drawing, right? Take them to see how their crayons made at the Crayola Factory. There are 28 hands-on attractions for the kids to explore, all about how color, chemistry and technology all come together to make art.
LEGOLAND Discovery Center Philadelphia
With just a short trip to the Plymouth Meeting Mall, all the lego lovers in your family will be in heaven. At the LEGOLAND Discovery Center, they will get to enjoy hands-on activities with legos and spent hours in the ultimate indoor LEGO playground. The center is located at Plymouth Meeting Mall, #1055 at 500 W. Germantown Pike in Plymouth Meeting.
Adventure Aquarium
Just over the river in Camden, your water babies will get a kick out of learning about marine life, from the big guys like sharks and dolphins to the little translucent creatures in the deepest darkest part of the ocean. Adventure Aquarium is located at 1 Riverside Drive in Camden, NJ.
Philadelphia Magic Gardens
Located on South Street, Philadelphia's Magic Gardens is a folk art gallery space that spans three city lots and includes indoor galleries and a bi-level outdoor sculpture garden. Spend a few hours immersed in some beautiful art and sculptures. The best thing is that there is something fun to do no matter the weather. The Philadelphia Magic Gardens is located at 1020 South St.
Kimmel Center for the Performing Arts
Nearby on the Avenue of the Arts, you can attend a variety of performance by some of the premier performing arts groups in the world. It is also the home of the Philadelphia Orchestra. From concerts to musicals, you can find plenty of ways to be entertained at the Kimmel this spring. The Kimmel Center for the Performing Arts is located at 300 South Broad Street.
Outdoor Picnics
Who doesn't love a good picnic, right? Enjoy the feeling the warmth of the sun on your face as you enjoy a relaxed lunch or dinner on a blanket underneath the sky.
Philadelphia is home to plenty of beautiful parks that are perfect for picnics. Whether you choose a small park like Rittenhouse Square or a more expansive one like Wissahickon Creek Park, there are so many options available to you.
For more information on fun ways to celebrate summer in Philly with style, visit Visit Philadelphia.