Tony Luke's is open, bringing South Philly flavors to Glassboro
May 27, 2016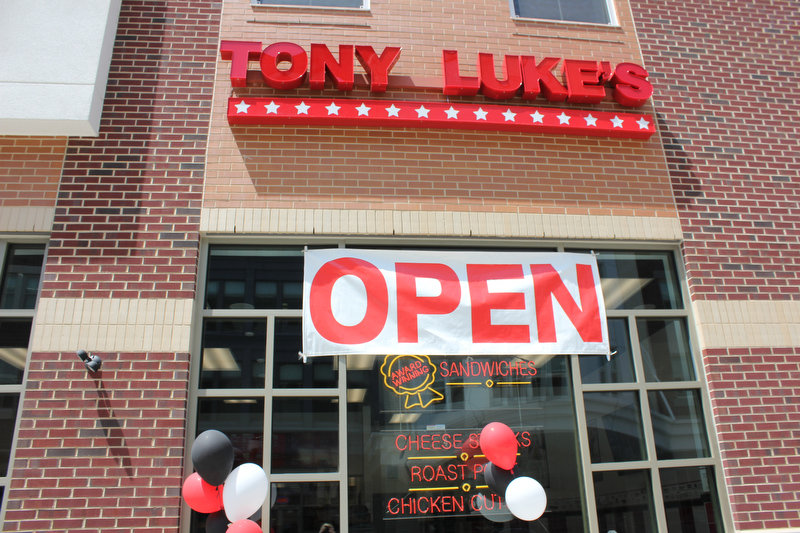 By Caitlyn Stulpin for NJ.com
GLASSBORO — Tony Luke's has staked its claim on Rowan Boulevard and is bringing Glassboro residents a little taste of Philly.
On Wednesday, Tony Luke's at Rowan University lit up the neon open sign and invited the community in for a bite to eat. But before the banner reading "open" was even up, Tony Luke's first customer, Sonya Harris, was walking through the door on a mission.
The Woolwich Township resident works at the Bullock School not far from the Tony Luke's location.
"Me and the other teachers have been looking forward to this all week," Harris said. "I thought I was going to have to wait in a crazy line to get our lunch so I can't tell you how cool it was the be the first customer."
Harris ordered classic Tony Luke's cheesesteaks for herself and four other teachers.
"I love Tony Luke's," she added. "It's so great they opened the location here."
Not long after Harris placed her order, patrons from all over started lining up to get their taste of Philly.
"People are so excited to have us here and we're excited to be here," said store owner Craig Lerch, Jr. "We wanted to wait for school to be out so we could really open up to the community first and foremost."
The shop opened up Wednesday to contractors, police, and family and friends to give them a taste of what was in store.
"That's what it's about," said Lerch. "We want to pay attention to the community first. Glassboro is like a little melting pot, with the university and 55 being right there, and quick access to Philly. There's great history and tradition here, so we wanted to introduce the true taste of South Philly to that tradition."
But university students shouldn't feel left out. Tony Luke's will be having two more "opening days" to include anyone who may have missed out on this one.
In June, the second opening will be hosted and it will include a giant sandwich cutting in place of the traditional ribbon. Then, in September, when students have returned, there will be a third opening for the students.
"We're gonna have an eating contest when the students come back to really get them involved," said Lerch.
Until then, Tony Luke's is open to the public from 11 a.m. to 11 p.m., and extended hours until 3 a.m. Thursday through Saturday.
"We look forward to working with the community and watching Glassboro see what the South Philly flavors are all about," said Lerch.
Source: http://www.nj.com/gloucester-county/index.ssf/2016/05/tony_lukes_rowan_university_is_open_for_business.html