Tony Luke's Cheesesteaks Announces Aggressive Franchise Expansion Strategy
April 26, 2016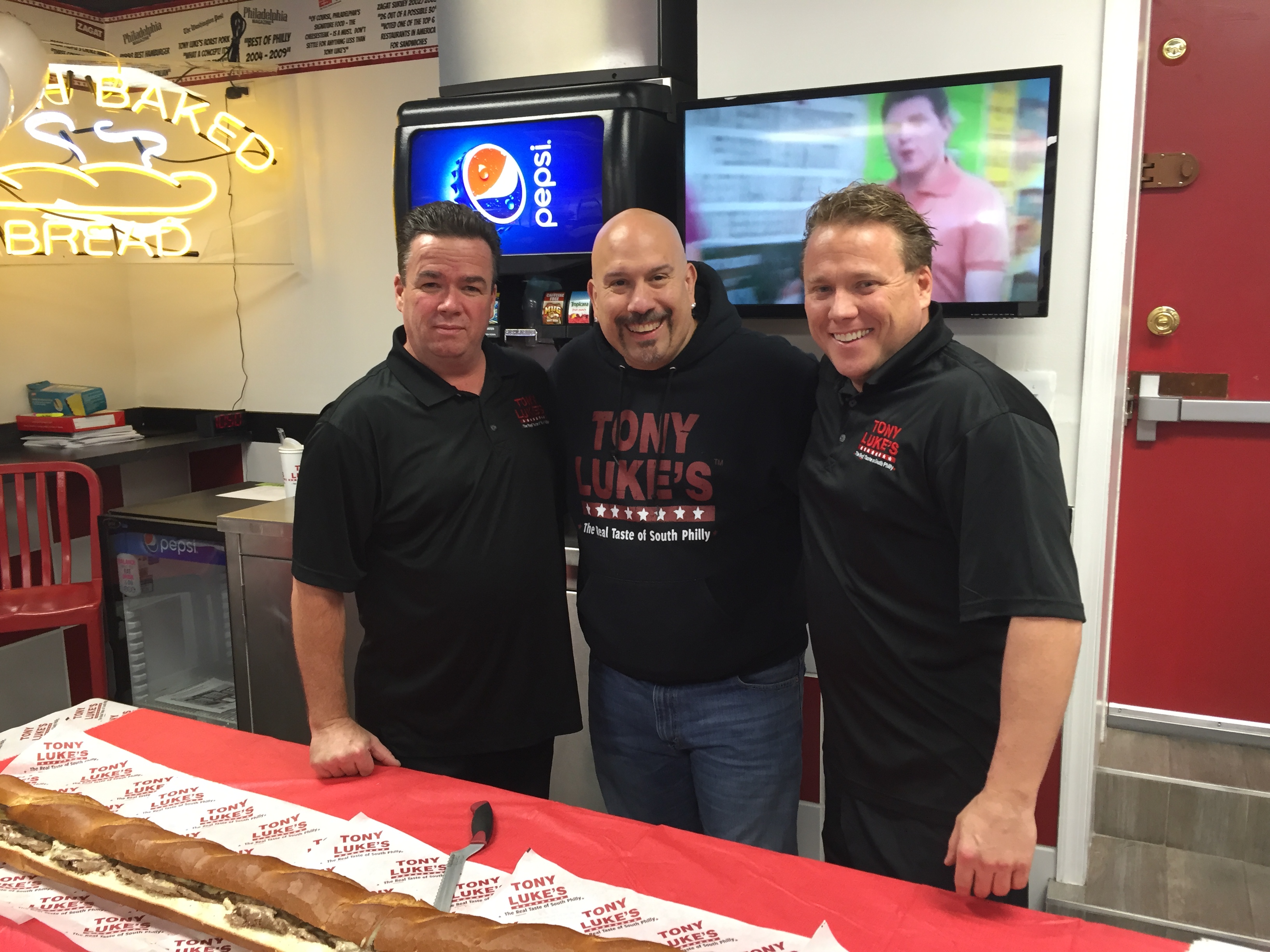 Beloved Philly-Based Concept to Expand from Beyond the Mid-Atlantic, Targeting Major Cities Across Virginia, the Carolinas, Georgia and Florida
Philadelphia, Pennsylvania (PRWEB) April 24, 2016
Attention cheesesteak lovers on the East Coast: Your lucky day may be just around the corner.
Tony Luke's Cheesesteaks — an Internationally recognized brand that brings guests "The Real Taste of South Philly" — is expanding beyond the Mid-Atlantic through an aggressive franchise expansion strategy targeting restaurant industry experts and entrepreneurs looking to own and operate a time-tested restaurant concept.
Franchise growth plans call for an additional 10 units sold over the next year, to add to the more than 20 current locations operating across the greater Philadelphia region and in New Jersey, Pennsylvania, Delaware and Maryland. The brand is looking to grow in southern markets along the I-95 corridor, into markets such as Richmond, Virginia, Charlotte, North Carolina, Charleston, South Carolina, and Miami, Florida, among other key regions.
"We're the perfect franchise for successful business men and women who are looking to build on their background and be a part of a high-energy brand with strong recognition and a cult-like fan base," said Tony Luke Jr., CEO of Tony Luke's Worldwide. "Our model provides entrepreneurs a pathway to creating a lasting restaurant business with room for growth."
More than just a typical Philadelphia cheesesteak joint, Tony Luke's redefined the Philly sandwich experience with specialty favorites like the award-winning roast pork Italian and chicken cutlet. In fact, the cheesesteak was not on the menu originally. Philadelphia's love for cheesesteaks prompted the Luke's to make their own version, which has stayed a bestseller since the addition to the menu in the early 90s. Tony Luke's menu now includes chicken cheesesteaks, seasoned french fries, hamburgers and more.
Tony Luke's works directly with cattle farms in the Midwest to supply stores with top-quality ribeye steak. All meat products are natural and the vegetables used in toppings are grown in Southern New Jersey and prepared with Luke family recipes. Sandwiches are served on Italian bread, baked in store every day. Each sandwich and food item is cooked to order.
Luke Jr. — formally Lucidonio — oversees the franchise. He is a restaurateur, actor, musician, and entertainer. Gourmet Magazine has twice hailed Luke and his restaurants for quality and innovation. Popular television series Throwdown! with Bobby Flay, Dinner: Impossible, Man v. Food, and Food Wars have all featured Luke and his restaurants on various episodes.
Tony Luke's works with MBB Management, a firm specializing in hospitality management, to run the brand from concept and development to licensing, day-to-day operations and financial accountability. Working alongside MBB, Tony Luke's has continued to expand through licensing and franchising, with close to 30 locations operating across the Mid-Atlantic and Bahrain.
For more information on the Tony Luke's franchise, visit tonylukes.com/franchise, email info(at)tonylukes(dot)com or call MBB Management at (609) 744-0132.
About Tony Luke's
Tony Luke's is a sandwich shop that specializes in Philadelphia favorites including cheesesteaks, roast pork sandwiches and chicken cutlets. Tony Luke's award-winning sandwiches are always cooked to order and served on freshly baked bread. Founded in South Philly in 1992, Tony Luke's has since turned into an international sandwich destination. With nearly 30 stores open across Pennsylvania, New Jersey, Delaware, Maryland and overseas in Bahrain, Tony Luke's is now extending franchise opportunities to owner-operators across the United States in select growth markets, working with MBB Management to aggressively grow.
For more information, visit tonylukes.com or call MBB Management (609) 744-0132.
Read more: http://www.benzinga.com/pressreleases/16/04/p7875940/tony-lukes-cheesesteaks-announces-aggressive-franchise-expansion-strate#ixzz46wwQxZEj